Here are a few featured  selections from our most recent shipment of new books. These books are located on the new book wall on the second floor and may be checked out at the second floor desk or at the fourth floor circulation desk. If our copy is checked out, use the link to the ALICE catalog and try repeating your search in OhioLINK to find another copy of the book.
Butter : a novel, by Anne Panning
Call Number: PS3566.A577 B88 2012
Butter is a coming of age tale set against the backdrop of small-town Minnesota during the 1970s and told from the perspective of an eleven-year-old girl, Iris, who learns from her parents that she is adopted. The story of Iris's childhood is at first beguiling and innocent: hers is a world filled with bell-bottoms and Barbie dolls, Shrinky Dinks and Shaun Cassidy records, TV dinners and trips to grandma's. But as her parents' marriage starts to unravel, Iris grows more and more observant of disintegration all around her, and the simple cadences of her story quickly attain an unnerving tension as she wavers precariously between girlhood and adolescence.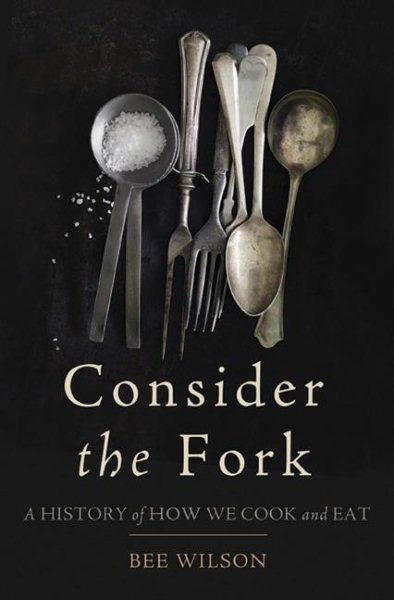 Consider the fork : a history of how we cook and eat, by Bee Wilson
Call Number: TX656 .W56 2012
An award-winning food writer traces the lesser-known history of kitchens through a series of engaging cultural anecdotes while demonstrating how technological innovations ranging from the mortar and pestle to the microwave have shaped how and what we eat.
Land of milk and money : a novel, by Anthony Barcellos
Call Number: PS3602.A7695 L36 2012
A Portuguese immigrant family falls apart when the matriarch's death leaves their dairy-farm legacy up for grabs.
The revenge of geography : what the map tells us about coming conflicts and the battle against fate, by Robert D. Kaplan
Call Number: JC319 .K335 2012
Draws on the insights of geographers and geopolitical thinkers to present a holistic interpretation of the next cycle of conflict throughout Eurasia that considers such topics as European debt, Chinese power, and the role of Iran.
The round house, by Louise Erdrich
Call Number: PS3555.R42 R68 2012
When his mother, a tribal enrollment specialist living on a reservation in North Dakota, slips into an abyss of depression after being brutally attacked, 14-year-old Joe Coutz sets out with his three friends to find the person that destroyed his family.
Call Number: PR6052.A6488 T63 2012
A portrait of an upper-class family torn by World War I centers on an anguished sister whose beloved brother goes missing in action, in an epic tale that explores the experiences of the family members and the working-class people who support them.